G
etting back into shape after Baby Number 2 is so much harder for me, there's 12 years between my boys so now I'm in my 30's my body just didn't snap back into shape like it did when I was a 19 year first time mum so I'm hauling my ass to the gym & swimming whenever I can. For me exercise doesn't come easy and I can find it boring, although with the right music I can really hit the treadmill! When I was asked to review a waterproof MP3 player, out of the list available I chose the
Arena Swimming Waterproof MP3 Pro
 as it had much more features that a standard waterproof MP3 player.
The features:
Waterproof up to a depth of 3 metres
FM Radio
Pedometer
4GB storage
A range of different sized earbuds
First thoughts:
Initially I didn't have a clue how to go about loading music I normally use my iPhone & iTunes, so I just did the first thing that came into my head & copied and pasted. I just copied my gym playlist from iTunes & pasted straight onto the device on my computer & it worked, no messing about with moving music to Windows Media Player.
I first tried this out in the gym & I've got to say I was instantly impressed with the sound quality & earphones. I love that they are coiled so they don't get in the way when running or lifting weights, plus as the ear phones hook over the ear they don't fall out. I don't know if this is a common thing or just me but my iPhone earphones were always coming out when I'm on the treadmill. This is a great feature when swimming & I would imagine this is the reason they were designed this way, the wires just don't get in the way at all.
I was a bit apprehensive the first time I used them in the pool, I know they are designed for swimming but it just felt weird getting into the pool with electronics attached to me! It easily attaches onto your goggles or swimming costume straps, sorry boys I really don't know how you would attach it as it's not the easiest to attach to anything other than a thin strap. In the gym I just had to pop it into the top of my sports bra as the straps were too wide. It would have been much better if it had some sort of clip attachment as you can't put it in your pocket due to the coiled earphones.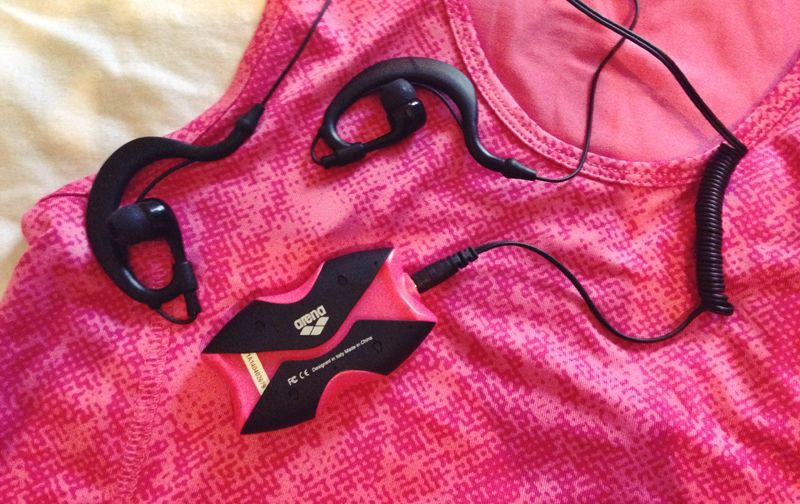 The Pros:
It's really easy to load music onto, plus it has FM radio
You can use it for pretty much every kind of activity, both indoors & outdoors
The coiled wire ensures it doesn't get in the way of exercising
The over the ear earphones stay in place even during very energetic exercising
It's perfect for going on holiday & using by the pool without being scared you're going to drop it it!
It looks great, you can't go wrong with pink & black but it does come in other colours
The Cons:
There's no function for having playlists, you just load up the songs & play so I would need to delete & reload music for different activities, there's no way I could swim to the same music I run to!
There's no attachment clip so it's not the easiest to wear when exercising unless you have a thin strap
You have to toggle through various menus to be able to get to the different functions
Ratings:
Ease of use – 7/10
Ability to improve a workout – music always improves a work out and you can use it for every activity! 9/10
Value for money – 8/10
Overall rating – It's an 8/10 overall. It's a fab  waterproof MP3
player and I would imagine this is why it has some of the limitations above, but overall it works great for anyone who's active & wants an MP3 player to fit their lifestyle